9 Workplace Safety Tips for Dangerous Jobs
9 Workplace Safety Tips for Dangerous Jobs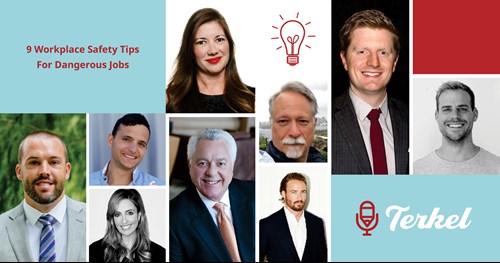 What is one safety tip workers at your company should follow?
To help your company implement new safety tips, we asked HR experts and business leaders this question for their best tips. From disinfection procedures to avoiding phishing emails there are several safety reminders and tips that you can implement at your company.

Here are nine safety tips workers at your company should follow:

Post Good Hygiene Reminders

Take Time to Think It Through

Keep Your Community Safe

Establish Disinfection Procedures

Prioritize Company-Wide Communication

Report Any Spills on the Floor

Provide First Aid Stations

Don't Multitask

Resist Opening Suspicious Emails



Post Good Hygiene Reminders
It's a good idea to have posted notes with safety tips in multiple locations to encourage good hand hygiene habits. One safety tip is to avoid handshaking within the office. Instead, we encourage the use of other non-contact methods of greeting.
Elliott Greenberg, Touchfree Concepts

Take Time to Think It Through
One of my favorite safety tips that workers at our company follow is to slow down. Sometimes, workers want to rush to get a job done and do it fast in the field. We like to slow down and think through each process we are doing to be sure we don't create any more problems or unsafe environments.

Noah Downs, American Pipeline Solutions

Keep Your Community Safe
Construction sites can pose safety concerns. With our vast project experience in trenchless pipe lining, we prioritize fast installation, safe work environments, and minimum community disruption. Our projects utilize existing access chambers and small support vehicles to create minimal noise pollution. Additionally, no pipe storage is on the work site for the safety of the community.
Ryan Shallenberger, SEKISUI

Establish Disinfection Procedures
At the beginning of the pandemic, we experienced 56% higher gross sales in Q1 of 2020 than all of 2019 combined. This set us down a continual growth pattern in sales for our delivery and eventual in-store pickup services. We had to put in place procedural health and safety measures for our delivery drivers, customers, and retail employees.
All phones, cases, and tablets are disinfected between each job to prevent potential cross-contamination. We've pivoted to contact-free ID verification by allowing customers to hold out their identification card for it to be scanned by couriers, and we got approval to waive signature capture at the time of delivery; drivers will wipe down the payment terminal with disinfectant wipes before and after transactions.
Chris Vaughn, Emjay
Prioritize Company-Wide Communication 
Safety at work is paramount in 2021. Companies are risking being held liable if a worker wasn't protected sufficiently. Many risks arise when people are placed in solo positions during work. This can be in public or at a large site. Having a universal solution to allow communication in distress is key to safety and trust. With mobile apps widely adopted, they provide a great base for this. A phone line or call center might be one solution, but an app works better as it can communicate location and details instantly.
Hays Bailey, SHEQSY
Report Any Spills on the Floor
It's important employees take care of or report any spills that occur. If you spill coffee or water or whatever beverage, clean it up as best as you can, but still try to report it to a janitor or whoever is in charge of maintenance so they can take further action. When it comes to glass breaking, you have to report it immediately and warn other employees immediately.
Bari Medgaus, Stabili-Teeth
Provide First Aid Stations
You're giving your staff the tools they need in case of an immediate medical emergency. These wall-mounted stations must be fully stocked with a first aid kit that has all the meds and supplies needed to handle the most commonly encountered situations in the office. This includes bandaids, gauze pads — whatever is necessary for a medical situation.
Aylon Steinhart, Eclipse Food

Don't Multitask
Something that I drive into all of my employee's minds is to keep quiet when they have tools in their hands and constantly encourage the leads to do the same. Every single accident I've ever seen during a remodel has been when someone was trying to have a chat while working. The conversation distracts them from the task, and they inevitably get injured. No multitasking with a saw in your hands.
Ralph Severson, Flooring Masters
Resist Opening Suspicious Emails
Cyber safety is of the utmost importance in this increasingly digital world. Your company is more likely to experience a cybersecurity incident such as a business email compromise or data breach from a phishing attack than any other type of physical incident. Cybersecurity training isn't like a fire drill. In this day and age, it's much more likely for your inbox to get hit with a disaster than for your building to catch fire.

Teach employees the soft skills needed for cybersecurity awareness, such as don't open an email from an unknown sender, how to hover over a link to see the domain, or not to download email attachments. For HR and IT leaders, make sure you have a monthly or ongoing cybersecurity training program to protect your organization.
Lauren Patrick, Curricula